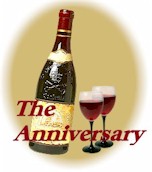 The Anniversary is best known as a 1968 film starring Bette Davis
as the mother from hell and a young actress named Sheila Hancock
as her daughter-in-law and rival, Karen.
Set in South London, the The Anniversary centres around a
formidable and domineering 'merry widow' who delights in getting
the better of her family. On the day of her and her late husband's
wedding anniversary, her beloved sons and bedeviled
daughter-in-law gather for the annual party that quickly turns into a
battle of wits as 'Mum' schemes, plots and uses any means
necessary to keep her chicks in the nest.